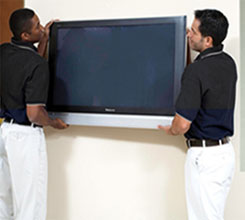 To anyone who says that any home theater installation is a piece of cake must have the good sense to read the manufacturer's manual that accompanies each device. However, the money one pays to the technician is not to compensate for laziness in going through the manual either. The experts have gained the tricks of the trade through years of experience and most of these are not printed in booklets. For the hefty sum you plunked down for your 60-inch plasma TV, you have every right to expect it to give you a bit more impressive viewing experience than the regular plug-and-play models. By installing it on your own, you might likely have less of that and more of the following:
1. Sudden Neck Ache
Any home theater technician would know that the right heights and distances must be tested before actually putting up the TV. They factor in the size of the TV, its distance to the couch and the viewing angles. By not taking these into account, the long term use can result to the viewer suffering from a range of aches and pains. Without the skill, you may not be able to estimate well the proper distances, but you can try cutting up a cardboard the size of your new TV. By plastering it on the wall and testing its height, you will soon get that most comfortable level for you. Mark the position on your wall and be sure to use a leveler every step of the installation to adjust it before you screw in the brackets.
2. Unfortunate Crash
One of the worst things that can happen to your plasma TV after you have installed it is for its brackets to break and crash your TV to the floor. The causes for this can be attributed to a lot of things like screwing the mount on a plain wood board which rather than the solid wood of a stud to better hold up its weight . You might also have picked out a flimsy bracket that is made for lighter TVs. Avoid this nightmare by using a stud finder and purchasing only the wall mount suitable for your TV model.
3. Wire Clutter
A technician can weave the wires and cables behind the wall to achieve a clean appearance. Since you will have to drill holes into your wall for this, make sure you plan your layout well beforehand.
Source: http://local.yodle.com/articles/why-to-get-your-plasma-tv-professionally-installed