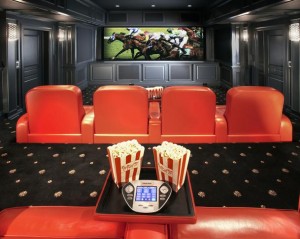 Any friend or loved one obsessed with home theater design is easier to buy a present for than you think. Whatever your budget is, you are bound to find something they would look forward to receiving.
1. The Big Guns
Dad or Grandpa will be easy to impress with a new 55-inch LED TV or a 5.1 surround sound system upgrade. Expect the same happy response when you wrap a universal remote control to hand to them. Just warn them that with these gifts, they should be ready to host a slew indoor tailgating parties in the coming year. For your own kids, give in to the endless whining with a new gaming console complete with motion control devices. Be sure to be there when they shower you with squeals and hugs.
2. Special Accents
To go with their nifty home theater installation, you can get your brother-in-law one of those comfy recliners with a plush head rest and a cup holder. A less expensive alternative would be to buy your favorite nieces their own kiddie recliners to watch their favorite Disney movies in style or your nephews a new gaming chair to call their own. A nice lamp or a coordinating rug can also be thoughtful options. For the more practical homeowners, get them any extra storage in the form of a media tower or new shelves.
3. Novelty Items
Concession stands will give instant movie theater feel to any room. The smell of popcorn can bring in the cinema into the living room so springing for a popcorn maker would bring smiles to the recipient's face. Embroidered throw pillows bearing movie themes are also fun accessories to give. The same goes for mock ticket booths, shiny posts and decorative cords, movie reels that double as wine racks, and the like.
4. Cheap Thrills
Even the budget conscious will be able to spoil their home theater buff friends during the holidays. You can look for posters of their all-time favorite movies and have these framed. A movie clapboard that would actually work would also be a fun conversation piece. You can also pick from among the new DVD and Bluray releases or stick with the classics to add to your cousin's collection. Holiday carols in a CD and the most awaited X-box game of the year should have the music buff or a video gamer, respectively, clapping their hands in glee the moment they open your presents.
Source: Hometheater.about.com