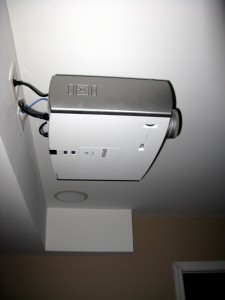 To bring in a celebrity-approved home theater design into your basement, you need not be a host of an enormously popular TV show, rule the airwaves or produce a string of reality shows. You can just sneak a peek into American Idol fixture Ryan Seacrest's elegant but cozy crib to take a few hints on how to spruce up your living room or basement. He may still be a bachelor, but the elements he chose for his Los Angeles home theater room can very well apply to any home, regardless of the number of kids you may have.
1. Wiring, out
One prominent feature of the room that you can easily copy is its lack of visible wires hanging from every blinking device. The home theater projectors are tucked away inside a smaller room at the back of the home theater, next to the washroom. The small glass panes on the back wall are your only clues to the projectors. A tower of systems is also concealed behind a wall panel that, if shut close, would appear to be a part of the wall.
2. Comfort at every turn
The way the home theater is furnished, you can tell that the TV personality has put a prime on his comfort. No stuffy rows of leather recliners are in sight. Instead of bringing in that actual movie theater feel, he opted to spread around the room cushioned couches that you can sink into. These have easily offset the polished wood ceilings and walls as well as the formal fireplace. Just in case the roaring fire would not be enough to warm your feet, every arm rest of the chairs has its own throw, folded neatly. Giant pillows are also stacked high so you can just grab one to lounge in. Throws and pillows are relatively inexpensive and available everywhere. If you want to raise the comfort level in your home theater, you can forgo buying a new sofa and spend less by getting them instead.
3. Automated systems
The popular host has his installations, including the recessed lighting, organized into an automated system for his absolute convenience. While this option may require a larger budget from you, the universal remote control or other ways to organize your movies and games can be your cheaper alternatives.
Source: http://www.lindersecurity.com/slider/ryan-seacrests-home-theater/