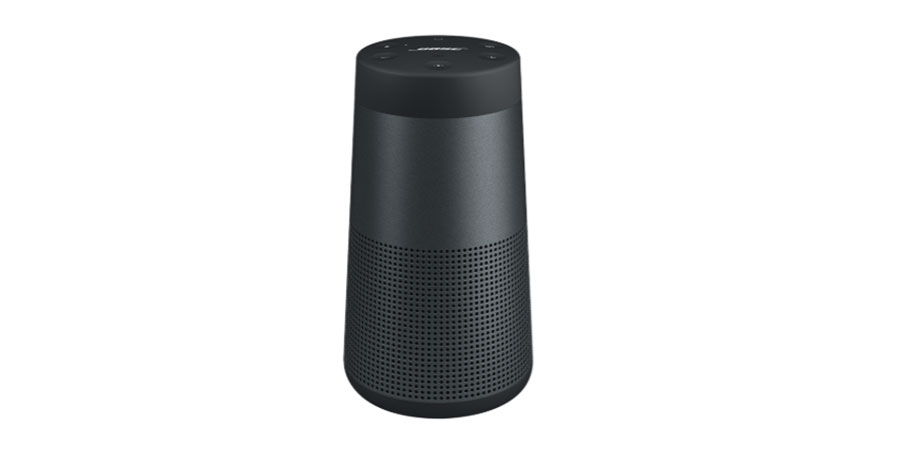 There is a lot of newly released Bluetooth speaker every year. If you plan on shopping the best Bluetooth speaker, then you're on the right page. Choosing speakers has been very difficult these past few years because we want to have good quality audio, a long-lasting battery life, and durable speaker. Sounds easy to look for, right? Not really. When you want to buy the best, the price gets more expensive, and it may not fit your budget.
If you plan to have a home theater, you can choose a home theater system that suits your home. You can also find a lightweight speaker that you can easily carry around for road trips, picnics, camping's, and more.
Bose SoundLink Revolve
The Bose speakers are well-known for its good quality speakers, and a manufacturing company that specializes in audio equipment. The SoundLink Revolve is a good runner-up speaker mainly because it is not suited for an outdoor wet party type of speaker.
The features for this Bluetooth speaker includes 12-hour battery life, 30 feet wireless range, a 360-degree sound, and a beautiful built and design. This speaker also weighs 1.5 pounds and is best to use for parties and indoor activities. Since this is a 360-degree built speaker, you don't have to worry about losing audio in specific areas of the room.
The downside for this speaker and one of the reasons why this is in the runner-up speakers is it's not waterproof, not fully dustproof and expensive. The Mini II of this series is a bit cheaper than this and sounds slightly better.
Marshall Woburn II Bluetooth
Unlike other Bluetooth speakers out in the market, Marshall's Woburn II is a powered speaker. That means you need to plug the speaker for it to function. It is a straight downside for the product, but if Marshall added a battery-powered function for this, this would be the largest portable Bluetooth speakers in the market.
The brand Marshall Amplification is a well-known company that manufactures music amplifiers, headphones, speaker cabinets, and earphones. This product has a similar design to the other models. You can easily identify the manufacturer because of the word "Marshall" found in front of the speaker. The top and the "Marshall" word are brushed gold plated.
This speaker is best for musical artists or people who prefer to stay at home. This speaker looks cool because it looks like a real guitar amplifier even if you don't have a guitar. If you find the product features perfect for your everyday use, you should buy this one. If you have a budget in buying speakers, you should think twice because this speaker can be expensive if you are after a minimum to a mid-range priced speaker.
Anker Soundcore Flare
First on our list is the Anker Soundcore Flare. This speaker is famous because it has almost everything you want in a speaker. The features for this device are:
Tough Waterproof build
LED Light Show (can be turned off)
Good sound quality
Affordable
Excellent user experience with its mobile app
Although this speaker was released last year, the Anker SoundCore Flare is still included in the list because of its outstanding performance. Compared to other Anker speakers, and if you need more details about its waterproof feature, you can dunk this in any bodies of water and pool without getting worried.
Just like any other products, this speaker also has its cons. Although this speaker does feature good quality of sound, the bass boost and EQ for this speaker is very mild that having it on max volume can sound very harsh to your ears. If you compare it to other Bluetooth speakers in the market, the battery life of this is average. If you use it in max volume and non-stop, this might not last very long.
The features of the speakers tell that you get more of what you pay for. Trying it out in stores may help you decide to buy this speaker or not if you're still hesitant.
UE Boom 3
This speaker is perfect for everyone may it be used on the go, the pool, or in beach parties. This speaker has a lot on its hand, and you'll be impressed because it's worth every penny.
The UE Boom 3 has features that other speakers don't have. The highlights for this speaker are:
Long Lasting battery (15 hours)
Wide bluetooth range (30+ feet)
NFC
Auxiliary plug
Affordable price
If you aren't impressed with this speaker, I don't know what will. A speaker considered to be the best Bluetooth speaker you can buy in 2019. Other problems with the speaker are harsh and distort music or sound after having it on the max volume. This speaker, even putting it on max volume, would still sound great and powerful.
With its lightness, you can carry this wherever you go. If you plan on going camping, this speaker will be an excellent company for your stay. The company, Ultimate Ears, now has added a feature where you can customize your Boom 3 so you can have a variety of designs and colour to choose.
In deciding what to pick among these speakers, you should know what quality and characteristics you want to have in a speaker. There is a variety of choices, and you don't have to decide right away since they are always available.