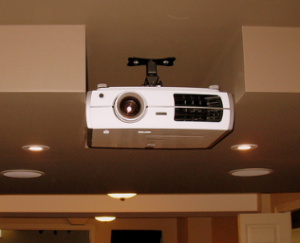 The idea of having your own home theater system may conjure many cozy nights of curling up to your favorite videos instead of going out to an actual movie theater. If you are an avid gamer, having your own state-of-the-art setup can also mean endless hours of uninterrupted gaming. Music fans can also kick back, after a long work week, and calm their stresses away. Teens can also dream of clearing out the furniture and inviting friends over for an impromptu dance party. Installing your own home theater system, however, is another story. If you are looking into getting the higher priced equipment for all the features that dazzled you, self-installation becomes even more enticing because the budget for installation can be cut and added to the purchase price.
Depending on how comfortable you are in handling wires and electronic devices, you can opt to buy those home theater system packages that includes the different devices you need for the project. You can then expect to have a projection system or any form of a video device like a wide screen TV, an audio system that may or may not have a subwoofer, and a remote control system for convenient access to all of them. Only your budget will dictate as to which model, features, or manufacturer you can have. You can also have better picture or sound quality if you can spring for the brands that are known for those features. As with any investment that you want to last for many years, comparison shopping is the only way to go.
For the installation itself, you need to draw a plan first as to which room in the house you want to convert into a home theater. This room must have enough electrical outlets to accommodate the multiple devices. By measuring the distances, furniture, and the space, you will know where to lay out everything. Set aside a weekend for this project so you will have ample time to read the manuals and sort through the cables, wires and other accessories. In setting up the speakers, one of the ways to get that surround sound effect is by experimenting. By keeping a movie on, you can adjust the placement of the speakers and play it by ear, so to speak. If all this would get too overwhelming, you an always ask a video or audio technician for advice on how to proceed next.
Source: http://www.se-andrederichaud.org/home-theater-design-techniques-what-to-remember-when-putting-your-system-together