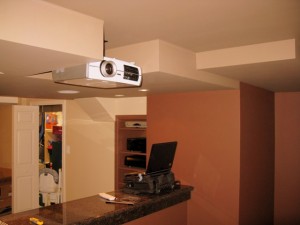 Granting you adore every bit of your home theater design, you cannot be a true video gamer, movie freak or audiophile if you have not, at the very least, given the tablets like the iPad, a second glance. Here is how it measures up to your home theater:
When it comes to sound, the built-in stereo in tablets may be adequate for its purpose if you are on the bus or at an airport. However, for music enthusiasts, it just falls short. They will have to dock it onto the best quality speakers out there to get some decent sounds out of it. It has jacks as well so you can slip in your noise-canceling headphones to get a more defined sound. In short, it just cannot and should not be made to compete with your surround sound system. It is fine when you are traveling, but when you are at home, allow your home theater to take over.
While the almost 10-inch screen size for tablets is indeed far from those home theater projectors you own, it also has its own advantages. For one, it beats out your smaller TV in the bedroom since you can hold it closer to your face. The rotating screen and touch-screen features are also quite intuitive that one would wish every screen will soon have those same features. On the downside, however, the resolution is not quite HD yet. Moreover, there is always that nuance of not having a widescreen aspect ratio. For movie fanatics, this may be a deal breaker and will have them turning back to their plasma TV to watch their favorite shows or Netflix streaming.
With the limited storage capacity of tablets and their lack of SD card ports on such popular tablets like the iPad, you might this to be a cause of frustration. Some companies have created external storage devices that you can buy to store your content, but these are not inexpensive options. You can also get one of those Android tablets so you can tote along an SD card.
In using tablets, you rely heavily on the Apps developed for them. This is the area where the tablet may actually edge out your home theater since on top of the Apps, the wifi connection can deliver a huge amount of content on that small handy device.
Source: http://www.zdnet.com/blog/home-theater/updated-apple-ipad-what-will-it-mean-for-your-tv-watching/2554