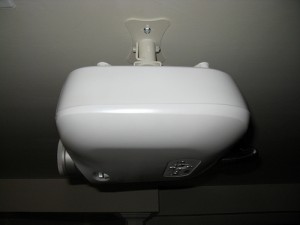 Deciding on what projection system to purchase for your home theater is a matter of finding the balance between your needs and your budget. Doing a bit of research will give you an idea of what the market is offering at this time. Top-of-the-line models often come with bells and whistles that, while may be nice to have, could require you to dig deeper into your pockets. The most practical way to go about it is to prioritize and list down the features you need.
To help you streamline your options, start by looking into the projection screen's practical uses and how well they suit your lifestyle. For instance, a tripod projector screen can take the place of a large LCD TV and has the advantage of being portable. If you are running a business, it can even do double duty for those times when you need to travel and make presentations to clients. Throw in a good surround sound system and you will be taking your movie watching experience to another level. You can also surprise your friends with backyard parties that include a movie under the nighttime skies as entertainment.
Having a living room or a basement with an empty wall will give you the option of setting up a retractable screen. Whether you choose the manual or the more expensive electronic model, this type will allow you to hide the screen when it is not in use. Since it is mounted on the wall, it will be less exposed to the risk of damage than the tripod screen.Wear and tear should also be minimal.
For families that watch movies often, mounting a fixed projector screen on the wall would make more sense than pulling down a retractable screen at every use. If you pick out a sound system that is compatible with it, the whole setup will be sleeker than the others — and will give the viewer the feeling of having stepped into an actual movie theater.
When you do comparative shopping for projection screens, keep in mind that the least expensive system may not hold up to your use or can break easily. So, stick to the features on your list and pick out a company with a reliable track record in customer service and technical support.
Source: http://www.bestarticle.org/computer/3-types-of-home-theater-projector-screen/