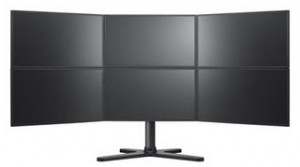 HDTV's have officially reached a point in their existence where they are finally an aesthetic addition to anyone's home. Not only are they affordable, but they are a welcome addition to any living room, family room or media center. That being said, it is easy to upset the sleekness and beauty of an HDTV with unattractive cords and cabling.
One option is to install the speakers in the wall. This would need to be done in the construction stages to ensure a proper hook-up; it is the cleanest way of displaying and using your surround sound. This is the best way to avoid clutter and ugly knots of wire and cables. However, be aware that this task requires some research and know how. There is a ton of information to be found on the internet, just be weary of solutions that may not be ideal for your situation.
This is the most effective way to install a media center without exposing the cable and wires required for the install. Other solution may involve investing in cable organizers or creatively inventing a solution for your environment.
Source: http://www.audioholics.com/tweaks/do-it-yourself-diy-topics/hdtv-installation