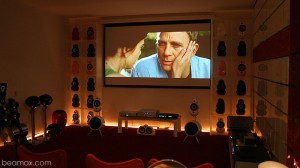 Unlike the screens of a projection system that can easily slide out of view, most of the TVs you can purchase these days come in the form of huge black rectangular screens that do nothing for your living room except stick out like a sore thumb. While the race to fine-tuning the picture quality has never let up and the screen sizes are fast approaching your town's theater cinemas, the creativity you need to blend your TV into your home remains to be a challenge. Even if your family loves to host parties at every sport game or if your movie watching habits have taken over your evenings, there should still be times when you would rather not make your TV the highlight of your room. When you would prefer read or have a quiet afternoon with your girlfriends and listen to soft music, then you will probably enjoy these times better if your ambiance would not include the TV.
To camouflage your LCD TV, you can follow what most decorators would do: build a cabinet with doors. You only have to open the doors if you want to watch the TV or shut it close if you have company. This setup is almost necessary especially if the decorating style of your home is traditional or country or any other theme that will not go well with the sleek modern casing of your TV. At least, with the media cabinet, you can have it custom-made to match the wood and stain of your furniture. If you are partial to modern or the minimalistic designs and still want to have a visual break from your TV screen from time to time, you can try looking into those models that feature a screen saver to put on if you are not watching any show. A flickering fire or a cool underwater scene with accompanying music in the background can be a soothing option to try. Some homeowners also attach see-through mirrors over the screen so you can watch the TV when it is turned on but will have a mirror on the wall when it is turned off.
If none of these hints will work for your home, you can always designate a spare room as your home theater area. That way, you can free up your living space from your entertainment devices and will not have to brainstorm of ways to conceal your TV.
Source: http://www.homeaudiovid.com/2577/hi-tech-meets-decor-your-high-def-tv-and-your-home/