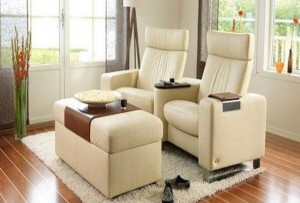 An expensive home theater setup is never complete if you are missing the right furniture to put your feet up and enjoy the whole experience. A good sofa will not only provide you with comfortable seating; the design you choose can also help tie the room together.
Find that magic number.
A dedicated home theater room will certainly give any family that chance to bond with each other so ensure that every member will get their own seats. If you live alone and in a bachelor pad with limited space, a single recliner should suffice. There are also double sofa seats that are perfect for couples and snuggling due to the lack of arm rest in between the seats. If you plan on frequently inviting friends over to watch sports or movies, then you can buy those long bench-like sofas so a larger group can fit in well.
Take the time to select accordingly.
Before you finalize the furniture for your home theater design, there are a few things you need to consider first. Granting you have enough space in the room that you allocated for your home theater, you will have to evaluate next what your primary form of entertainment will be. For movie watching, thickly cushioned recliners will provide the most comfort. Video gamers can also opt to get a game chair that includes provisions for speakers and a rocking motion to get the best playing experience. As for your design preferences, you can get the low-backed modern sofas in black for that sleek and minimalist look. For reclining sofas, you can match their covers with the paint color or whatever other element that you have in your room. Other features like cup holders and movable head rests will also add to your comfort level. Lastly, you may have to be careful to not go over your budget. The key is to strive for that balance in spending for both your equipment and furniture because the most comfortable sofa you can find can never make up for a sub-standard surround sound.
Experiment with the arrangement.
To give each seat that unobstructed view of the screen, you can raise the back rows with the help of a seat riser or platform. You can also set up the sofas in such a way that there is an aisle in the middle for easier access to the seats.
Source: http://dreamfunhouse.com/sofa-design/comfortable-home-theater-sofas-and-seating-design-ideas