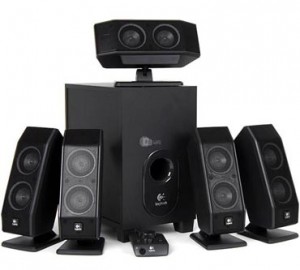 With more and more LCD or Plasma TV manufacturers dropping their prices on their HDTV models to make way for new technology like the 3D, homeowners can now afford to equip their home theater room or fill each of the bedroom in their house with a new TV screen. Whether the rooms be large or small, there are obvious benefits to mounting the TV on the wall. One would be to free up the space for a small desk or other furniture, and the other is to hide the unsightly wires that are part and parcel of any TV. To achieve the latter, you must first have some idea on which wall and how high you want to place your TV as well as have a working know-how on setting up the mounting brackets. In purchasing the brackets, you must keep in mind that they should be able to hold up your TV and its weight for a long time.
To give your media wall a clean look, consider installing your surround sound system the same way by integrating the speakers and subwoofer into the wall. This will reduce the mess of wires significantly, but will still leave you with the problem on how to deal with the cables and other connections to the digital cable box. The box itself cannot be mounted on the wall due to its size so you need to designate a fixed location for it in your room. The quickest solution to this is to pin the cable wires on the wall and paint over them the exact same color that you have on your wall where they run on. If this is not feasible, you can also opt to drill another hole on your wall to let these wires pass behind them.
Since your goal is to conceal both the wires and the holes, make sure you drill on an unexposed section of the wall. Before you switch on your drill, take precise measurements of the lengths of the cables and the distance to the specific location of the cable box to prevent drilling holes you cannot use. After you route your cables behind your drywall, you can finish the task by putting in grommet hole covers for a more seamless look.
Source: http://www.audioholics.com/tweaks/do-it-yourself-diy-topics/hdtv-installation