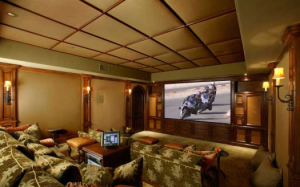 With all of the gadgets and equipment that are turned on and used altogether when watching a movie in your home theater room, the power usage can definitely surge up. Using too much power increases your monthly electricity bill and there are also effects to the environment.
People have become more aware of the world's environmental situation, as such, there are now a lot of tricks on how you can use your green thumb and reduce power consumption in your own home cinema.
Size matters. Although many home cinema enthusiasts would say that the bigger the screen, the better movie experience you will have, always remember that bigger TV screens would also mean higher energy consumption. So it would only be fitting to purchase a television screen with a size that is appropriate for your room. For example, an LCD TV that is 42 inches can save as much as 20 percent of energy compared to the 50- inch LCD models.
Type of technology. The type of technology that the gadget uses also needs to be looked into. In terms of TV displays, plasma televisions make use of more power compared to LCD units even if they are of the same size. So before heading to the store, check which types of displays will be more energy- efficient.
Energy Star Label. Before purchasing any type of gadget or appliance in the store, look at the box of the product and check the energy star label. This tag will only appear if the gadget has passed the energy efficiency of the EPA. There are numerous TVs that have passed this test and you can find out ahead of time on which brands offer displays that have the energy star 3 label.
Features of the appliance. Always be very keen on the features that the salesman tells you about specific gadgets. These features can make or break the energy efficiency of the appliance that you want to buy. Many manufacturers today have a green angle in their processes to attract more people not only through their efforts in helping the environment but to help lower utilities and bills of the consumers as well. Examples of these fantastic green features among home theater projectors and displays are automatic dim and backlighting control, light sensors to reduce brightness, sleep or snooze sensor to check if people are inside the room, and more.