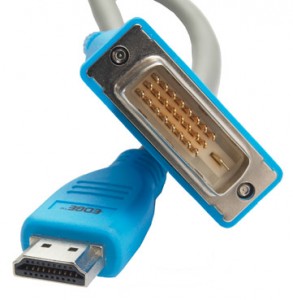 There are certain aspects in home theater design that may not dazzle you as much as 60-inch plasma TV does but will be so nifty and valuable that you will wonder how you managed to live without it. One such item are the popular HDMI Cables (High Definition Multimedia Interface). If you have not heard of it, you must still be using the color coded audio and video jacks that are still confusing many of us as to which one goes to what port. This cable wonder will not only simplify the connections between a single AV source to the AV display, but the resulting picture and sound will not be compressed.
Pick the right one for your needs
Depending on your home theater installation, the cable to transmit the content between devices will have to be compatible with them. There are projectors and TV sets that could still be DVI-compliant but not HDMI; however, you may purchase adaptors to remedy this issue. Consider also the length of the cable before your purchase. If your room is large, you may have the luxury of grouping your gaming consoles together in an enclosed storage. Thus, you would need a longer cable in this case.
Before getting the most inexpensive HDMI cable out there, check first the version on the label. The latest ones have, of course, can give you a sharper resolution and better image quality. There are also additional features like ethernet channel and support for newer formats like 3D. HDMI is further classified according to standard, high definition, and even automotive HDMI cable. The latter will enable you to connect to an HDMI-compliant display device inside your car. This is ideal for those long drives so both the young and the young at heart will have plenty of entertainment options while on the road.
HDMI Splitters and Switches
When you wish to break up a single content source into two HDMI-enabled display devices, you can do so with the use of a splitter. However, some models may not be the plug-and-play type and would require an amplifier to boost the display signals. On the other hand, there are also HDMI switches that will allow you to plug in several devices all at once to be used on a single display output. This will save you the trouble of unplugging the HDMI cables every time you wish to use another content source.
Source: http://www.askpetroshore.com/2010/08/29/understanding-the-use-of-the-hdmi-splitter/