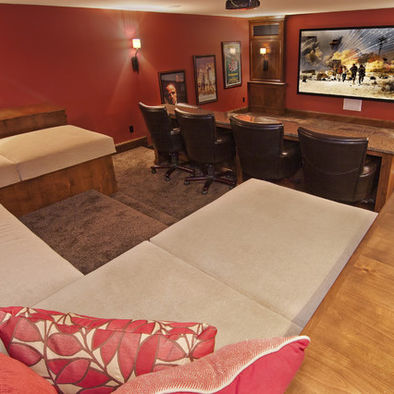 Not all people are blessed with big houses which have multiple rooms for entertainment and for home cinemas. This is the reason why some individuals are thinking of different ways on how they can still have a home cinema without creating a new extended structure.
There are those that would turn their living rooms into multipurpose media space but the trend today is to transform the garage into a home cinema. There are a lot of homeowners who enjoy this idea because they just simply use their garages for storage and they do not really have to move a lot of useful items and furniture to make a new functional room.
No matter what size of garage you have, you can definitely utilize a certain home theater design that will amplify the acoustics well.
Here are the most important things that you need to do when turning your garage into a home cinema:
The first thing that you need to do is to inquire from your local construction agencies if you are allowed to transform a garage into a type of interior room. Some zoning rules and regulations prohibit this so you need to know the city's laws first. Before doing the conversion, always make sure that you know where to park your car.
Clear your garage by renting a storage unit or by having a garage sale to get rid of all the unnecessary clutter found inside this space. Once the garage is empty, take appropriate measurements from wall to wall and from floor to ceiling.
Decide ahead of time on what you want to do with your garage door. The best way is to remove it and replace with a wall but there are people who simply build on the door interiorly so that fees and additional expenses can be saved.
Replace the drywall especially those that are damaged. It will also be best if you contact professional contractors to install wirings and light fixtures. Getting help for the home theater installation will also be advisable because experts know what to do and they can help you position the components of your home cinema effectively.
While the contractors are redoing your garage, visit a furniture shop and find comfortable pieces that will be suitable for your new home cinema. Also shop for the necessary appliances such as the display, the sound system, speakers, remote controls and others.