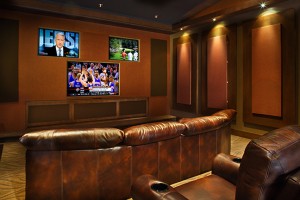 When you think of the ultimate home theater system, it might include a video wall where a number of widescreen TVs are put up on the wall to form one enormous screen. If you are an avid sports fan and the idea of missing even a single shot or goal is unthinkable, you can even run multiple channels simultaneously. A video wall will give you many options that will push your viewing experience beyond what you have been used to having.
A large family, or at least one whose kids always have their friends over, will benefit from a video wall the most because it will allow everyone to watch their favorite shows without having to fight over the remote. As long as your whole home audio system includes multiple headphones as well, you should be able to keep everyone happy.
With a bit of careful planning and elbow grease, you can take the other alternative and do the job yourself. On top of the list is the picking out of the mount. For this, you need to make sure that the weight of each individual TV is supported well. A tilting feature is also a good option to have. Once you have the mount, you need to hook the TV up into the brackets that go with the mount and you have to repeat this for all units before you start putting the mounts up on the wall. The next part of the project will get a little tricky as it will then be the time for you to measure each TV and plot their placements on the wall. If you have chosen the mounts well, you may find that you are given enough wiggle room to straighten up your row alignment even after you have installed the mounts.
Work on your home theater installation starting from the bottom row and then move your way up, making sure that you take into account the full screen height in estimating the space necessary for the mounts. Lastly, you can then affix the TV screens themselves and their corresponding cable wires and align them well before pushing them flat on the wall.
Source: http://experts.ergoindemand.com/install-multiscreen-video-wall/?utm_source=rss&utm_medium=rss&utm_campaign=install-multiscreen-video-wall