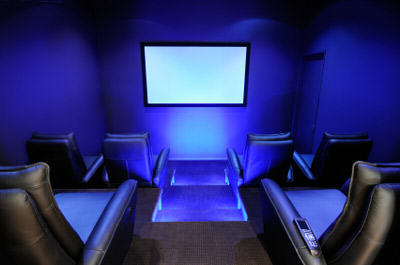 Even if the economy is still on the verge of recovery, there are a lot of people who are looking for homes to purchase because there are numerous great deals in the real estate industry today.
If you and your family members are fond of watching high definition movies in the comforts of your own home, looking for a house with an extra room for a home cinema should be part of your checklist. The addition of a new home cinema will be a very good decision but it also requires a lot of planning.
You need to be able to consider your budget, the gadgets, the arrangement and the overall home theater design. You can achieve your dream home cinema and get your dream house at the same time.
Here are a few factors to consider when planning for a home cinema in your new home.
Choose the right room. The good thing about having a home cinema installed when you buy a house is that you can plan ahead of time which room you want to turn into a theater. Since everything is still empty, you can look at all of the rooms and decide which room is the best option for you. Sound is definitely an important factor in your choice. The home cinema must be in a room where the sound can be manipulated and not interfere with conversations happening elsewhere in the house. Luckily today, even if the room is small, there are some awesome gadgets that you can use to improve the sound quality inside the room so size will not be your biggest issue.
Personalize the design. There will be a lot of magazines and showrooms where you will be able to find nice designs and setups for your own home cinema. But the best way to make the most out of your room is to design it according to how you plan to use it. Aside from watching movies in the home cinema, you can also have it function as a game room and an entertainment room. Some people even request for a stage in front so that the family can have their karaoke sessions inside the room.
Accessing the gadgets. When planning a home cinema, you also need to know how to operate each one of those gadgets. One of the best options for you is through a universal remote system for its convenience. All gadgets will be synched with the remote so you could control them from just one apparatus.