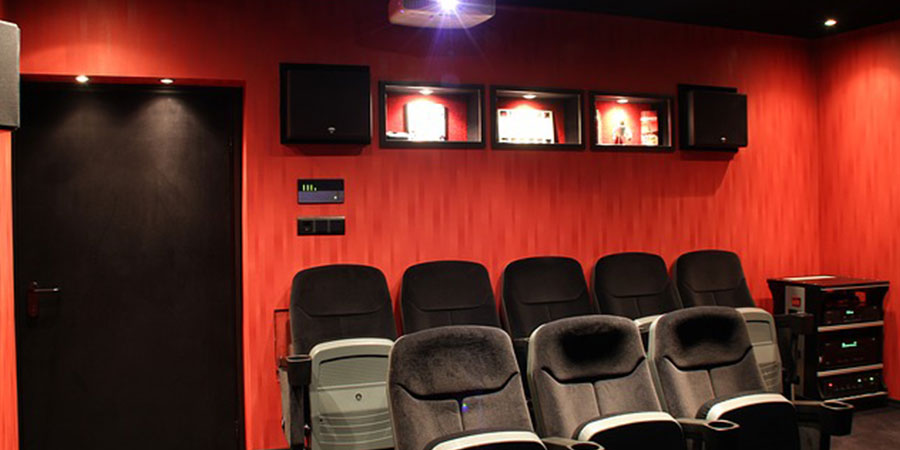 Living in a tiny home like a condo or a small bungalow doesn't mean letting go of your home theater aspirations. Though you will have to work with some limitations because of the limited space, you can still turn your visions into a reality by making compromises. Take the following elements into consideration when you're converting a tiny space into your home theater:
Leverage the Wall and Mount Your Screen
With a tiny area, the 100-inch projector on your wish list may be unattainable. But fret not because technological advancements mean you can still select an excellent quality TV screen or projector that will fit perfectly into your cramped space. The ideal size is a 50 to 60-inch screen. It is tiny enough to accommodate your space concerns, yet still big enough to offer a silver screen vibe. Be sure to mount the screen on the wall so you can dispense of space-eating shelves or entertainment console.
Prioritize Your Audio Experience with Excellent Sound
For a genuine home theater feel, install an excellent surround sound system. Choose a sleek design that won't impinge on your floor plan. A mounted wall or ceiling design is best. Just hide the cumbersome wires, or go for a wireless variant. Today, you are spoiled for choice with acoustic options that offer vibrant and robust sound for a truly immersive film-viewing experience. Remember, in a smaller area, sound quality is better. Sound energy is contained, providing better sound quality. Thanks to this characteristic, you can buy a cheap sound system with an assurance that it will still make a resounding audio impact.
Think About Your Video Player
If you are using a projector, your primary goal is to pick a sleek video player that shall fit in seamlessly with your interior design. But if you want to dispense with an additional gadget, you can opt for a smart TV that plays apps directly. With the help of Amazon Prime, Vevo, Netflix, and the like, you can directly stream your favorite movies. Another consideration is plugging a USB media stick onto the TV's port.
Factor Your Comfort With Compact Furniture
Don't feel limited by the lack of space. Many wonderful designs work well with small spaces. Opt for non-bulky seats like a narrow sofa or an L-shaped sectional. The most crucial thing to do is to measure your space. You want to be certain everything fits together. Keep in mind to allocate space in between the seats and the screen because you don't want the lights to damage your eyes.
Unleash Your Creative Juices to Mimic a Cinema Vibe
Last but not the least, don't forget to go all out when choosing decorations and embellishments for your small home theater. The devil is in the details, baby! For a real cinema vibe, you can include framed movie posters, add a red carpet, or display Oscar award figurines. Play with warmer lights as these fixtures can set the ambiance, giving your space a cozy radiance. Even the sky cannot limit your imagination so keep those creative juices flowing. After everything is done, sit back, relax, and kick up your feet. Though your home theater is tiny, it packs an awesome punch. Happy watching!