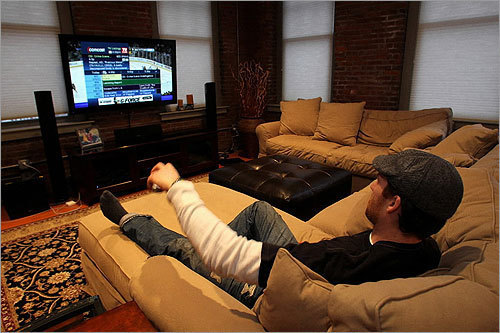 All men would love to have a space for themselves in their homes. What better way to deck your man cave than to add some fancy technology and equipment?
There is one apartment in New York City that has been converted by its owner into an ultimate man cave. This is definitely not your typical home theatre system. The focal points of the room are the four display screens that are placed around it and did we mention that the apartment is 800 square feet?
Here are the interesting features of this ultimate man cave in NYC.
Before going into the HDTVs and the screens inside the room, you should take note that one of the accesses into the man cave is through a secret door disguised as a bookshelf. The owner of the apartment is a physician and his clinic is right next door. This bookshelf access serves as his entry point from his office to the lair.
There are four main display screens inside the apartment. Three of those screens are Samsung HDTVs. Of course, they are big screens and they are strategically located inside the room. In fact, two of those HDTVs are kept behind artwork. With a push of a button, the artwork rolls up and it reveals the 55-inch HDTVs. The other Samsung HDTV is 46 inches and it is located in the bathroom where you can watch movies while you are enjoying a hot dip in the tub.
The fourth display screen in the apartment is 106-inch screen display. This screen keeps away by rolling in and again, with a touch of a button, it rolls down to reveal the screen. It would be totally useless without the Wolf Cinema projector. You would think that either one of these displays would be enough for a home theater but the owner definitely loves technology.
Aside from watching a movie while taking a bath, you can even roll out a bed and watch the movie while lying down. If you pull down the display screen and roll up the artwork to reveal the two HDTVs beside the screen, you will enjoy the movie from three different screens that are placed right next to each other but in different angles. The two HDTVs face one another and the screen is in the middle. According to the owner, he can freely talk face-to-face with a guest but both of them can enjoy the full view of the movie played on the screens.
If the screens and displays are impressive, this ultimate man cave is also wired with sophisticated sound system that is capable of producing surround audio sounds.