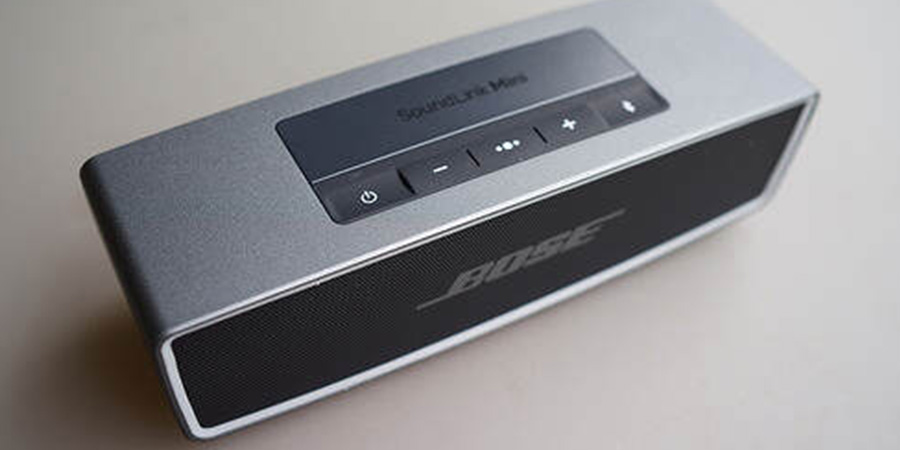 Bluetooth speakers have evolved dramatically over the past few years. What used to be only as good as your phone's built-in speakers can now come with bombastic bass and crisp sound quality. No wonder more and more are choosing these portable boxes over massive systems that take up so much space.
There are a ton of competing Bluetooth speakers out there today. It's just a matter of choosing which one is best for you and what your personal preferences are. We've done the dirty work for you and complied the finest Bluetooth speakers available today.
Bose SoundLink II
Bose has been around for a very long time, and for good reason. Not only do they sell some of the top-notch headphones and home theater set ups out there. They're also the masters of portable Bluetooth speakers.
Case in point the Bose SoundLink II. At a hefty $299, it is truly one of the best around. The duel passive radiator speaker comes with a more rugged design, which is perfect for those who want their gadgets to make a design statement. Plus, it promises up to 14 hours of battery life. Hopefully, your next camping trip would be a tiny bit more bearable.
UE Boom
At 1.1 pounds, this lightweight box comes heavy on the features. First, it's extremely well designed. You won't be embarrassed to take it out for a spin while you're chilling with your mates by the beach. It's got tons of functionality including its own customizable equalizer plus linking up with a fellow UE Boom for a surround sound effect.
At $199, it's ahead of the Bose SoundLink II's battery life, boasting of up to 15 hours of sound tripping.
Harman Infinity One
If it's deep bass and rich sound you're gunning for, then look no further than Harman Infinity One. It's at a steep $299 too but it does the job well. So well.
Its volume capabilities are quite impressive and it's got every feature every modern tech-savvy person could ever wish for: NFC connectivity, USB charging and even conference calling. Plus, its wireless range goes as far as 30+ feet. Compared to its competing brands, the only setback of Hartman is its battery life lasts until 10 hours. It does make up for it with such sleek design though.
Nyne Bass Bluetooth Speaker
If you're big on the outdoors and desire nothing more than a box that will be durable enough for your adventures, then Nyne Bass is the perfect speaker for you.
Boasting of a rubberized and stylish exterior, it comes with a carrying handle to bring it around anywhere. Plus, you can use it to charge your phone should you run out of juice and it even has a microphone for when you feel like getting everyone's attention. Did we mention it's got some really powerful bass?
JBL Charge 2 Plus
The JBl Charge was great but this one is so much better. Sure it's just akin to the size of a large soda can but let us tell you that this one packs a full-bodied punch. Trust us. At $150, you get your money's worth—and we mean that in the best way possible.
Its sound is quite impressive despite being light and small. It even comes with a seamless smartphone support and impeccably tethers with three devices simultaneously. Did we mention it's splash proof and could last you over half a day?
Fugoo Style Bluetooth Speaker
If you want a Bluetooth speaker that's practically everything-proof, then Fugoo is your best bet. Don't make fun of its funny name because this one-pounder is rated to be waterproof, mudproof, snowproof and shockproof. So you can practically bring it anywhere you fancy.
The battery life is a true winner, boasting of over 40 hours of high-quality sound in a single, full charge. You can even dress it in little jackets if you want, which truly makes it a unique and quite the lovable speaker. At $199, it's worth every penny.
Creative Sound Blaster Roar
As highfalutin as its name is, this speaker means serious business. It's packed in solid design, comes with a solid sound and even has a solid ROAR sound enhancement that sets itself apart from the rest. The fun doesn't end there.
The Creative Sound Blaster Roas packs a 5-drive system and supports aptX and AAC protocols. Plus, it has NFC for pairing with devices. It's even got a built-in MP3 player, voice recorder, speakerphone, and multiple listening modes. The best part? It's just $129.
Creative Muvo Mini
Just when you thought it takes expensive speakers to deliver the finest sound there is, here comes Creative Muvo Mini smashing boundaries. At the best price of just $59, it offers a full, robust sound and is weather-proof. With a battery life of 10 hours, it's right up there with its more costly competitors.
This speaker is the best example of cheap but premium quality. Definitely don't sleep on this!