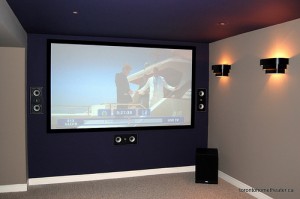 You may have already decided that you've had enough of paying high-priced tickets to watch movies. You realized that you are better off buying your very own home theater system. In this way, there will be no need for you to go through all the hassles of watching your favorite films outside your home. But before you proceed and buy, here are some tips that can help you save money in this project:
First, you must understand that there will be a range of choices for you when planning for a whole home audio and video system. So you must not be too quick in making a decision. Know what your minimum requirements are—and start with that.
Next, consider your budget. Do you have sufficient money to buy the entertainment set you desire? If your budget is limited, then always keep in mind the amount you have set aside for this, so that you will not overspend.
What is perhaps good news is the fact that there are home theater packages that can cater to even the tightest budget. But be cautioned though that you usually get what you pay for. So don't buy based solely on the price tag. If you have to, wait for the time that it goes on sale.
Another valuable tip is being inquisitive enough to know what comes with these home-theater-in-a-box kits. Are the components in these kits complete, so you won't have to make additional purchases? Otherwise, you may have to spend a few bucks more to complete an entertainment system.
Common components include: speakers, DVD or DVR, receiver, wirings, projectors, etc. Always ask the seller the details about the kits they are offering. Don't regret later on for not having made this extra effort.
Be reminded of these tips when planning for your own home cinema entertainment system. In the end, it all boils down to your budget, what you need and what is available in the market. Buy only if it feels right, otherwise you risk being disappointed. So know what you want, and stick to that. Only when you are happy with your purchase will you enjoy watching the beautiful films in your very own theater system.
Source: http://leachtheatre.org/buying-a-home-theater-within-your-means/