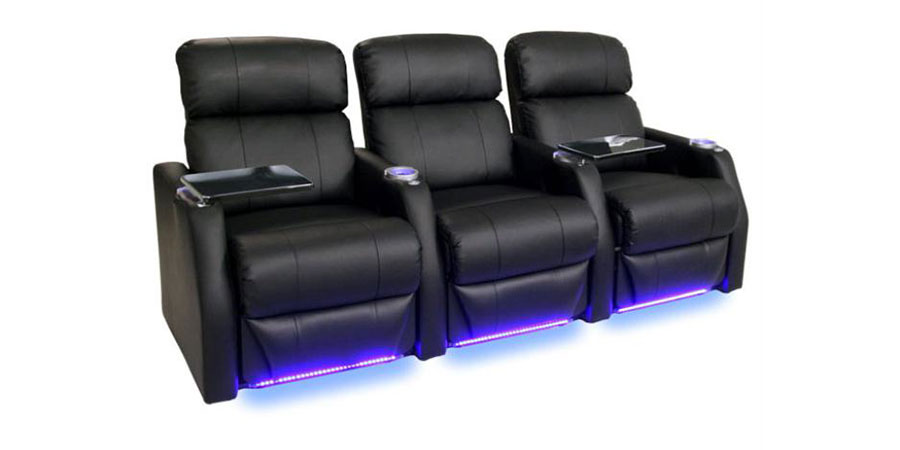 Have you ever been in that situation when you've just finished installing your brand new high-end home theater system, and you went online to shop for those really awesome home theater seats? And then you find out that it's not going to be delivered any time soon? Most owners would usually have this kind of predicament, and their last resort is to you use high back wooden chairs, temporarily.
Honestly, when setting up a home theater system, the last thing on anyone's mind would be the seating. And yet this is one of the most crucial aspects of home theater entertainment. It doesn't matter if you have a high def television, and the best hi-fi surround sound system, if you don't have comfortable seats, you won't be able to get the most out of the whole experience.
When coming up with a well planned home theater design, your seating requirements will need to be carefully thought out, so you can order the most appropriate loungers or movie chairs well ahead of time. You have to consider what's going to be the perfect fit for your home theater rooms, considering size, maximum comfort, and of course your budget.
When it comes to home theater seats, there are two options. The first one is movie seats that are similar to the ones found in movie houses. These are less expensive compared to loungers, and are good space savers because they can be folded up when not in use. If your plan is to have a home theater room with more than a dozen seats, then this is a really good option.
However, if you're just setting up an entertainment room for a small family of just 5-6 people, then the home theater lounger is your best bet, and if you're intent is to really impress your friends. Loungers basically mean comfort. It's thickly cushioned, almost making you feel like being hugged, and can be reclined to give you the most comfortable and enjoyable movie or sports viewing. These come with drink holders as well, just like a regular movie seat.
Loungers can be very bulky, and could potentially not fit in with your home entertainment room design. A good option for smaller spaces would be the wall huggers. These can be placed just several inches in front of a wall, and could still be reclined with no problems.
So, when you go ahead with implementing your home theater installation, give the seating options some careful consideration. It makes a big difference in the quality of your home entertainment experience.