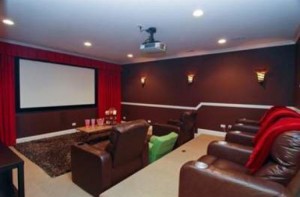 Rosie O'Donnell certainly knows her home theater. Inside the recently built brownstone that the talk-show host purchased in the upscale neighborhood of the Windy City, nestled one of the reasons why she snapped up the house. Its entertainment hub, or hubs since other rooms are outfitted with wall-mounted flat screens as well, would make anyone drool.
While no particulars have been divulged, the photos floating around the net have enough distinctive ideas to inspire you to use in your own home. Expect the original design to rob you of a decent sum, but if you only borrow a few key elements here and there, it should not take much.
The Goodies
If have been planning to get one of those home theater projectors, then now may be the perfect time. The Chicago home appears to have a projector mounted off the ceiling and a wide screen placed front and center. You may not see any visible speakers or other such devices, but with the projector needing a good sound delivery device, expect a well-hidden surround sound system somewhere in the room. The same goes for the gaming consoles. With a bunch of teens in the family, they ought to have a couple of fun stuff stashed away.
The Viewing Comfort
A row of home theater reclining seats in handsome leather are positioned behind two individual chairs of the same color and upholstery. With the clever use of the risers, those who will be sitting at the back will never get that annoying view of the back of a person's head.
Moreover, the back row gets to have the cushy head and neck rest strapped on the chairs. The chairs each have their own built-in stainless steel cup holders on the arm so you can use both hands to hold the popcorn bowl. Sandwiched between the two front chairs is the kiddie couch that is perfect for younger viewers.
Setting the Mood
To mimic the actual cinema experience, elegant red drapes frame the projector screen. Aside from the chocolate brown walls, the rest of the room, including the crown, chair rail molding and baseboard, are kept white. With the recessed lighting dotting the ceiling and sconces lining the walls, the New York native and her brood are indeed, as far as their new home theater is concerned, in "a league of their own".
Source: http://www.electronichouse.com/article/a_peek_inside_rosie_odonnells_new_home_theater/?utm_source=EHWeeklyNewsletter&utm_medium=email