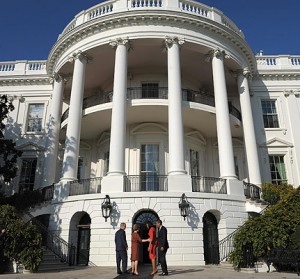 A lot of people are wondering on what rooms could be inside the White House. Well, aside from all the meeting and board rooms, there are also rooms that were made for entertainment. After all, the president of the country and the first family need time to relax too, right?
The United States just recently celebrated President's Day where people from different states remembered the legacy of the leaders that once served the country. Of course, it was a holiday so families had the time to relax and rest from school and work.
Most of the people would just want to sit and watch TV with the family and some families would go out on a picnic date.
But do you ever wonder what the president of the country does to relax? Well, the president and the first family do not actually have to go outside of the White House because there are a lot of things that they can do to unwind even inside the vicinity.
Although most of the information about the building is confidential, one of the rooms that people are aware of is the home theater room.
Things to Know about White House Cinema
For many years, different American presidents have used the White House Home Cinema to watch different movies.
It was built in 1942 but the first ever film that was watched inside the White House happened way before that date.
It was believed that President Eisenhower used this room to watch his favorite movie, The Sound of Music.
Until today, the White House Home Cinema is still functional and is used by the current president and the first family, although there have been some changes made in the interior designing of the room.
During the first few years of its creation, the room sported some grays, deep emeralds and some neutral tones. Then the furniture was changed to white sofa pieces.
Today, the theater room sports an immaculate red interior with red comfortable chairs. Although the details of what sets of equipment were used in the room have been kept a secret, it's pretty obvious that the room has its own home theater projectors and surround speakers too. But the function of this room goes beyond just watching movies.
Some guests were entertained in this room and the president also may have practiced a few speeches there as well. The first family surely had watched various movies in the home cinema.