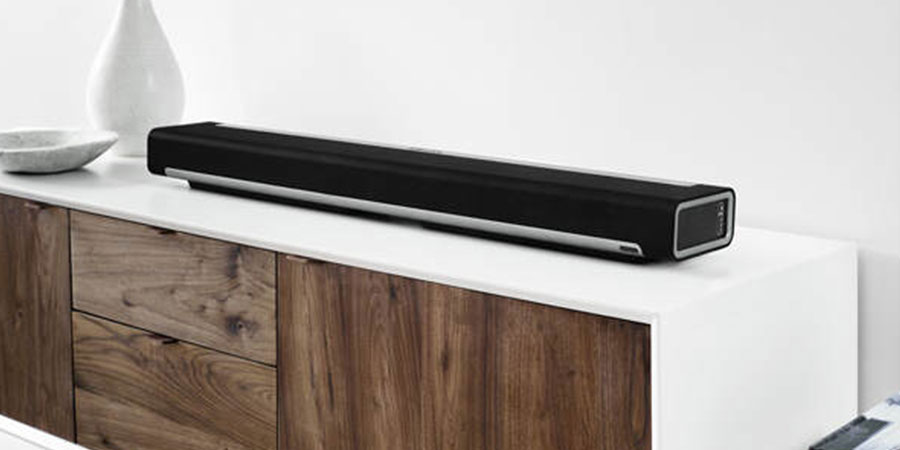 If you're thinking of upgrading your home sound system, setting up a Sonos will be a great addition because it is a high tech leader to address your modern home audio needs.
Sonos takes the concept of surround sound to the next level! With this high tech invention, you can easily stream sound all over your house.
Why Sonos?
It supports a large steaming library like Pandora, Spotify, Sirus Xm, Tidal, and more. You can easily play various tracks to your heart's content. You can play two different songs in the family room and the other in your office at the same time. You can also opt to hear your favorite song in perfect sync all over your home. You can easily control and pick your sound choices and setting with the touch of a finger through your phone. Some speakers even work harmoniously with digital assistants like Alexa or Google.
This is perfect for audiophiles and home theater aficionados because you get a broad range of stylishly sleek speakers than can function within any room that promises to deliver a rich and clear sound. With Sonos, you can stream the music through your wifi, so there won't be any disrupting text messages or calls to mess up what you're listening to.
What Sonos to Choose?
You may have a hard time deciding which Sonos speaker to get because there are many designs available in the market. You can customize your system to suit your lifestyle needs. You can opt to mount this on your wall, put them in your ceiling, place them on vertical stands, or rest them on a shelf.
Sonos offers versatility. If you're streaming sound in just one room, the first versions like the Play:1 or Play:3 is a great choice. However, if you want a smoother sound for more rooms, the Play:5 will work better for you. If you're looking to amplify the sound of your TV, you will need the help of the Sonos Playbase and Sonos Playbar. Let's take a detailed look at each below.
Sonos for Streaming Music
Sonos offers a variety of speaker models that's best for listening to music. Replace your current wired speakers with these high-tech wireless versions that are all easy to set up. You can choose from either black, silver, or white, whichever fits the design of your home.
Sonos One SL and Sonos One
The Sonos One SL and Sonos One work well in a small room like a home office, a dining room, or your bedroom. The two are almost identical but the Sonos One SL cannot handle voice commands, while the Sonos One can with its built-in mic. Both are great and affordable starter choices for giving your well-balanced sound. You'll be impressed with their crystal clear sound details. They have 2 full-range drivers which offer you an expansive field of sound, too.
Sonos Play:1
This is a great mini speaker that gives you better stereo separation. However, it is not a great choice for getting sound from your TV. You will also be unable to use an integrated smart assistant. That being said, it is still a great entry-level choice. It comes with physical buttons if you want to control sound the old-fashioned way. Just like the Sonos One and Sono One SL, this gives Trueplay capabilities and compatibility with most music services.
Sonos Move
This particular speaker is great if you are always on the go. It also works well with vast open spaces like your patio, deck, or garden. It comes with two full-range drivers along with built-in voice control care of Amazon Alexa and Google Assistant. As its name suggests, you can take this with you anywhere because it is rechargeable. This waterproof device can be used as a regular portable Bluetooth speaker, or you can hook it to your WiFi to be a part o your Sonos multi-room set-up.
Sonos Play:5
This gives you more versatility as it comes with 6 balanced drivers that are perfect for large rooms like a master suite, living room, or open floor plan house. It can be used with a digital assistant and comes with a 3.5mm line-in and headphone jack. This can be set up with your TV, too, as it comes with a clear, refined sound. It also has an impressive bass with a large sound stage.
Take note: All Sonos speakers with the same model can be used in stereo pairs for large rooms. For smaller rooms, one will be sufficient.
Sonos For Watching TV Shows and Movies
Sonos will work very well for your home theater because it has a variety of high-tech offerings that provide wireless music capability with exceptional sound. For instance, home theater systems can now accommodate wireless music from the same providers of all the other Sonos mentioned above. These soundbars will also allow you to stream audio from your TV to all the other Sonos components in your home.
This very sleek bar comes with built-in speakers that reproduce sound from the left, right, and center channels. This set-up assures you can hear the sound effects, receive dynamic sound, and listen to crystal clear dialogues. Take a look at the specifications below which all add dimension to your TV and movie sound experience.
Sonos Playbar
This badass piece of tech comes with nine built-in speakers; three of them are tweeters and six are mid-range drivers. It connects to your TV with ease through an optical digital audio cable. Expect powerful sound that's perfect for watching your favorite movies or TV series.
Sonos Playbase
This dual-purpose tech acts as a great speaker and an awesome base for your TV. Just like the playbar, it has the same nine built-in speakers, tweeters, and mid-range drivers. However, this has an additional one low-frequency woofer. It offers the same powerful sound and TV connection option as the Playbar. The only difference is this is designed to be a platform for your television.
Sonos Beam
It comes with voice control from Amazon Alexa or Google Assistant. You can connect this to your TV via the HDMI ARC port. This comes with an adapter for those who prefer an optical digital connection. Sound quality is assured with five speakers where one is a tweeter and four are full-range drivers.
Add-ons for Beefed-up Sound Quality
If you're looking to have exceptional sound quality, consider the following Sonos add-ons. You can gradually build up your home Sonos collection, so it won't break the bank. Putting these additions assure a great immersive listening experience.
Sonos Sub
This ensures you can play a lot of deep bass with its two dual woofers and acoustic ports. You will be able to appreciate even low-frequency sounds if your pair this Sonos Sub even with just one single Sonos speaker. This will be great for listening to music or for enjoying your TV series and movie shows.
Sonos Port
This nifty gadget will help you enjoy all the benefits of Sonos through your existing stereo speakers set up. Since this offers both digital and analog outputs, you can easily connect this to your home theater or stereo receiver, powered speaker, preamp, or an integrated amplifier.
Sonos Amp
It can be gleaned from its name that this player is versatile. It can easily amplify sound with any pair of stereo speakers. On top of that, it has a subwoofer output for your 2.1 audio system. Your TV can be easily connected to the AMP. Through its analog input, you can also connect something like an old-style CD player.
Bottom Line
As you can see, there are many available types of Sonos out there for you to enjoy. This list is not even exhaustive yet, but you can already glean that there's just a lot out there to accommodate all kinds of price points and personal requirements. You can mix and match to get the optimal sound output you're looking for. The primary thing is to do your research before you buy any model, so you can compare the specs and prices. You'll want something that suits your budget without compromising on sound quality.