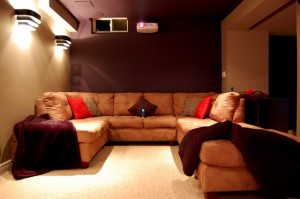 For every home theater installation you do in your living room, you are adding to your overall energy consumption. Sure, each new device may not always make a dent in your wallet, but if you consider all the electronics you have in your home, they can add up.
First, be aware that the electrical consumption of each device varies. The energy star logo will clue you in on the efficiency on some of them, like your TV for instance. Thus, when you are looking to replace your old clunker of a DVD player or if you are in the market for new speakers, look for those brands that can perform for less energy. While some are iffy on those home theatre systems sold as a package like those boxed surround sound speakers, they do have an advantage of being built to work together more efficiently. As for TVs, the plasma TV also has its own advantages over the LCD models, but when it comes to saving energy, the latter will trump the plasma of the same screen size.
There are now products in the market that can help you go green at home. If you are planning for a lot of backyard parties in the summer, you can look for those solar-powered speakers to help create a fun ambiance. If you look hard enough, there are gadgets out there like those that have automatic switch-off features, that can, in one way or another, lower your electrical bill. You may have to pay a bit for the initial investment, but as long as it saves energy, it can pay back for itself and more.
The physical arrangement of your devices may also be a contributing factor to your energy bill. Electronic devices do emit heat, and in the summer, that will translate to cranking up the air conditioner. The basement, which can be one of the cooler parts of the house, is thus, the ideal location for a dedicated home theater. You can also draw in the curtains to block out some of the heat and at the same time, to enhance your viewing experience.
Lastly, you can save energy by cultivating good habits like switching off devices when not in use and by teaching young kids to do the same.
Source: http://www.testfreaks.com/blog/information/5-techrelated-products-support-green-lifestyle/